Hello friends! So, omg. Have you ever watched The Jinx on HBO? As you know, I'm a true crime enthusiast — to be clear, I'm not enthused about crime committing, but I am fascinated by the people who commit crimes (+ all the what, when, where, why, and how). The devil's in the details, people.
The Jinx is an older docu-series, but I have watched it twice through and remember loving it. Well, my favorite true-crime / comedy podcast (GET INTO IT, YA'LL – it's a real thing), True Crime Obsessed, has been covering The Jinx, episode-by-episode, on their Patreon feed. And, BOY, have I forgotten how captivating, enthralling and absolutely terrifying this show is. And since Halloween is right around the corner, what better time to catch up on it? There are only 6 episodes, so you can totally binge it this weekend.
The basic gist is that there's this very wealthy fellow in New York City, by the name of Robert Durst. In 1982, his wife, Kathleen Durst, vanishes one night without a trace. Robert is immediately considered the prime suspect after her disappearance, but the police don't seem to have a good grasp on how to pin the crime on him. His family is also very wealthy, and it's said that they had the police in their pocket at the time. There is MUCH to unpack about Durst's whole story, and it's clear that he is not on the straight and narrow from the very get-go. And yet…a solid twenty years passes, and the poor woman's body is never found, and therefore no one is charged for any wrongdoing…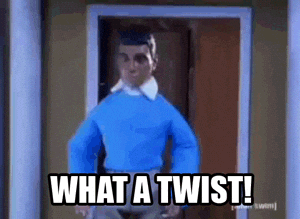 In a particularly disturbing twist, in 2001, our good friend, Robert, is randomly arrested in Galveston, Texas for murder, dismembering a body, and throwing it in the Galveston Bay. The man he killed was named Morris Black, and he was Durst's neighbor. Interestingly enough, Durst had been hiding out in an apartment disguised as a mute woman. Black and Durst had a disagreement, and Durst killed Black and got rid of the body. Truth is stranger than fiction, ya'll. When arrested, he immediately posts bail and takes off across the country to hide out. They do catch him (for stealing a hoagie at a convenience store, you guys), and upon further investigation, the police find that Durst is all kinds of unsavory, and has potentially killed MANY people across the great United States.
So, like, obviously he killed his wife, right? I feel pretty strongly that he did. At any rate — this show is a MUST watch if you're feeling spooky. And then, if you're needing a laugh afterwards, definitely listen to True Crime Obsessed Podcast (because they always have me LOLing)!
Okay – here is a little ditty to work off all your Halloween chocolate-related calories, and to help you get in shape to run away from alarming murderers like Robert Durst. 🙂
"Terrifying Tabata" (8 rounds per exercise, then move to the next of :20 of work, :10 rest)
Push ups
Goblet squats
Z presses
Burpees

Kettle bell swings

Mountain climbers
Jumping lunges
Bent over chest flies
You'll be sweating, sore, and saying BOO! in no time. If that's not scary, I don't know what is. Happy Halloween, friends!
Want to connect? Follow me on Facebook, Twitter, or Instagram for more recipes, workouts, and content.
Thanks for reading! Xo.